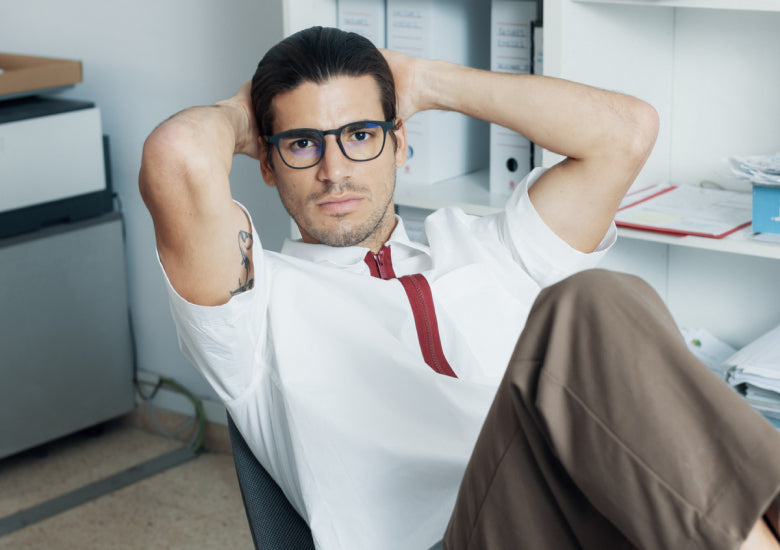 There's a perfect frame for every face shape. At Barner we want to help you find the best style to compliment your look.
Here's a guide to figure out the most flattering frames for your face! 
Remember that all our glasses are 100% functional and stylish, with the digital generation in mind, ultra-light and super comfortable, which one will you choose?
Learning how to measure your face

We know that figuring out your face shape can sometimes be confusing. There are different types and pretty often the differences between one and another are very subtle.
But finding out your exact type can be very helpful in the long run. We know that, when they're matched correctly, computer glasses can completely redefine your professional or personal image and style.
Oval Faces are easy to identify because they are longer than they are wide, with no sharp angles.
—
One of the luckiest face shapes to have, because most frames will work perfectly, so the world is your oyster! Oval faces tend to have a rounded chin, with a soft-U shaped jawline and a more pronounced forehead. They are well-balanced and versatile, which means it is easy to experiment with all kinds of different shapes, colors and sizes.
—
> Frames to explore: Square and rectangular frames with smaller widths will emphasize the cheekbones. We encourage you to take a chance on bold frames with strong colors.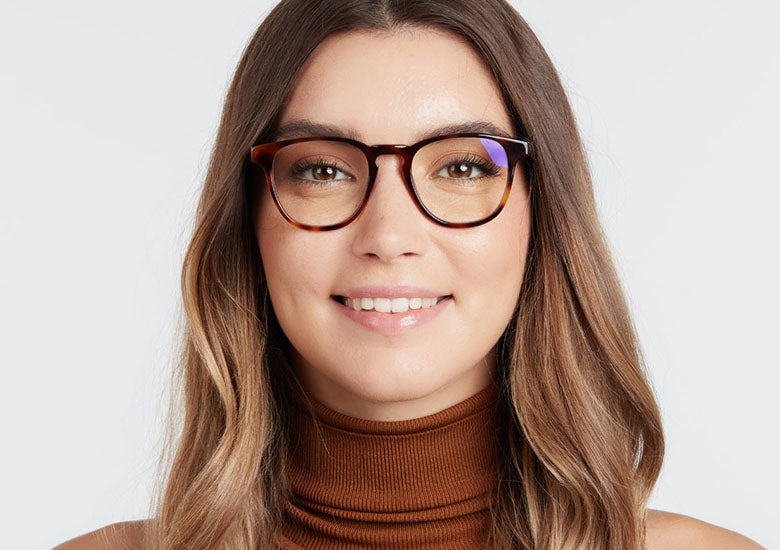 Round faces are as wide as they are long, with the forehead tending to be almost as wide as the jawline.
—
A very symmetrical and balanced face with full cheeks and a rounded chin, which works well with angular frames that highlight the eyes and the cheekbones by adding structure.  
—
> Frames to explore: Square and rectangular frames with bold colors will stylize this type of face and accentuate the eyes. Don't be afraid to experiment with wider and more colorful frames. If you like colors, we have a specially created wide selection of tones to choose from!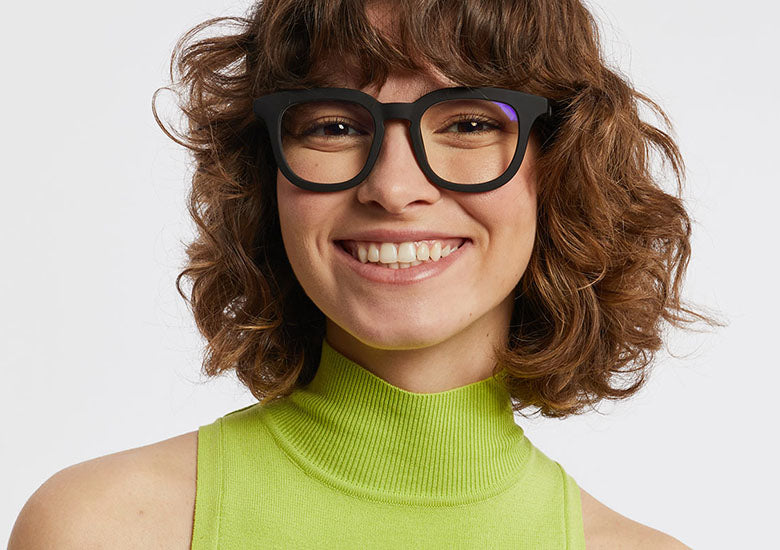 Square faces are as wide as they are long with a similar width of forehead and jawline.
—
A very proportional and angular face shape with a strong jawline. Medium and larger, rounded frames with sleek curves tend to complement this face shape best.
—
> Frames to explore: Round frames with high bridges are perfect for this type of shape, because they will soften the structure of your face while drawing attention to your eyes. 
Similar to and often confused with oval, oblong faces are slightly longer and thinner, with an elegantly slim jawline.
—
For this type of shape, we love the contrast of frames with vibrant colors and wider lenses that will create a stylish sense of balance.
—
> Frames to explore: Rectangular or round bold frames are great. Just like with the oval face shape, you can experiment with a variety of frames to find your perfect match!
Prominent cheekbones are one of the key features of this type, characterized by a narrower forehead and chin.
—
If this is your type, then you are in luck! This is one of the easiest face shapes to recognize! Our tip is to highlight your cheekbones. Rounded and curvy frames are some of the best fits because they illuminate this angular face shape by adding an extra touch of style and elegance! 
—
> Frames to explore: Round and oval glasses will create a nice soft touch and highlight your look. Strong colors also have a way of spotlighting a diamond in the rough!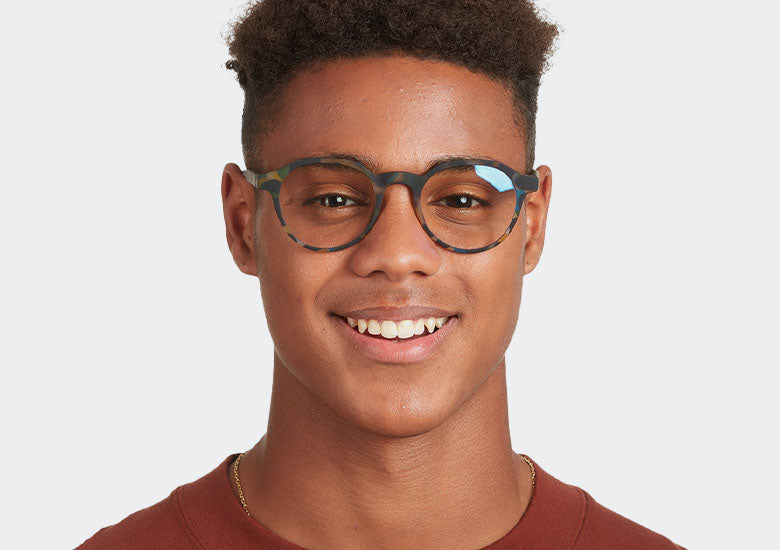 Here is our guide on how to take your exact measurements: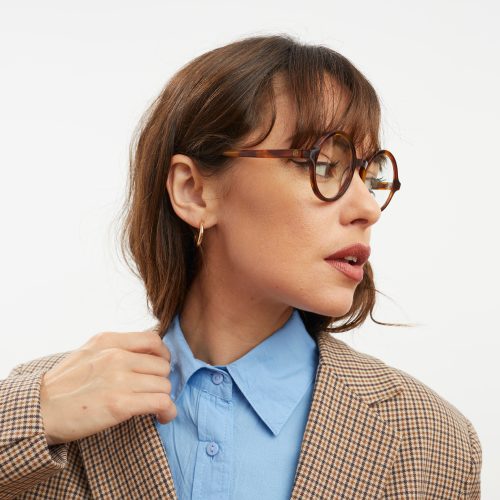 JAWLINE
Take a horizontal measurement of the width of your jawline, from the start of your jaw below your ear to the other side.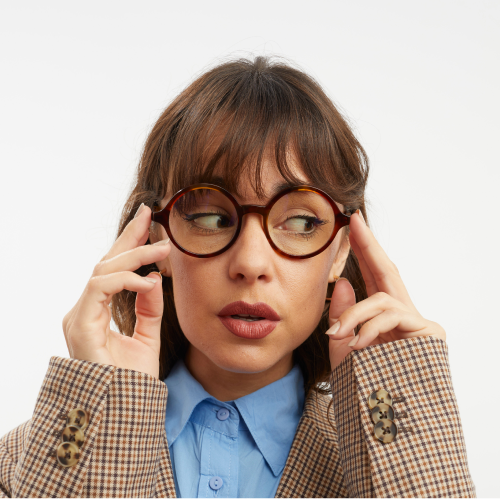 FACE WIDTH
Take a horizontal measurement of the width of your face: cheekbone to cheekbone.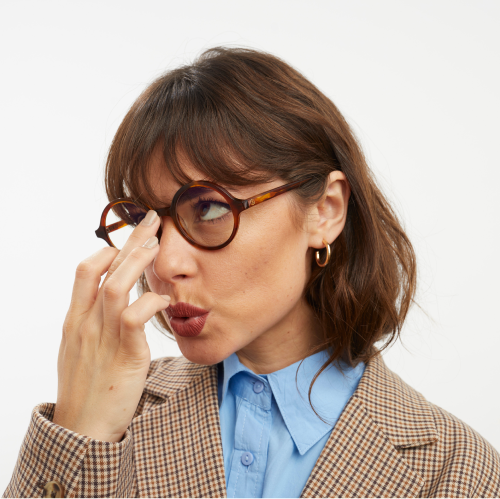 FOREHEAD
Take a horizontal measurement of the width of your forehead.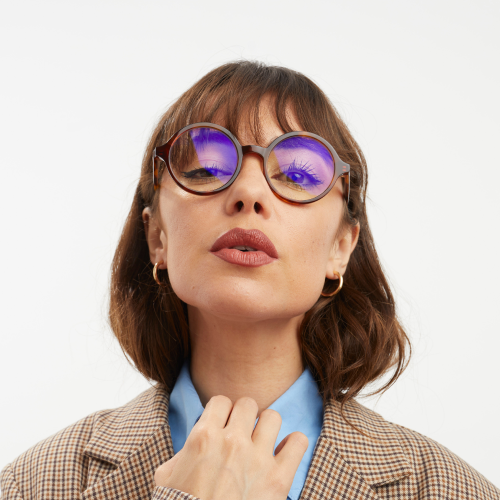 FACE LENGHT
Take a vertical measurement from your hairline to the bottom of your chin.
With these measurements handy, we can guide you to identify your specific face shape and discover the most flattering frame style from our collection.
Finding the perfect computer glasses for your face shape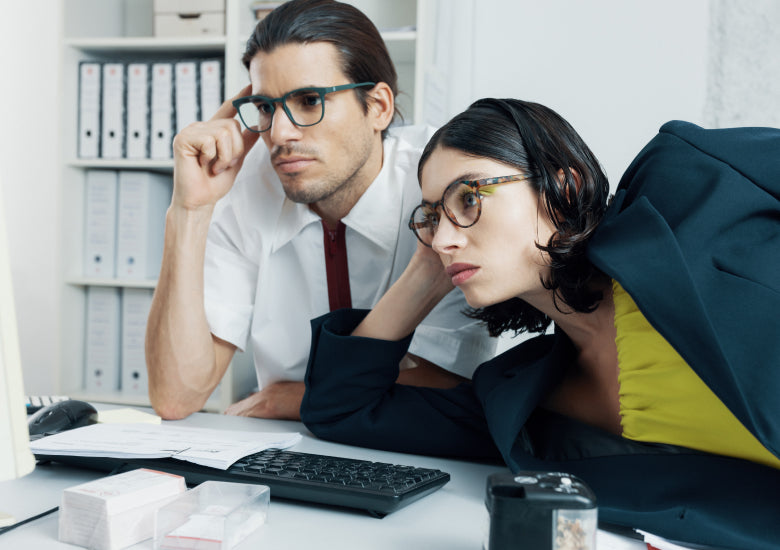 Finding the perfect computer glasses for your face shape
We are to help you choose the most complimentary glasses that perfectly match your face. When it comes to identifying the best frames; a general rule, opposites always attract!
For example, for rounder faces, rectangular frames are best. On the other hand, curvy frames are perfect for angular bone structures.
Understanding frame sizes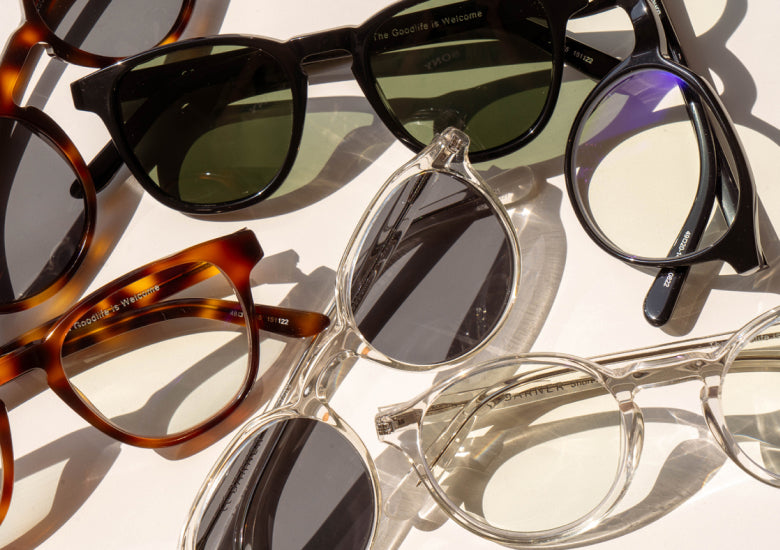 Understanding frame sizes
Because we know every face is unique, we have specified the size of our frames in the description of every model with three consecutive numbers: lens width, bridge width and temple length. These numbers will always be indicated in millimeters.
Example: Size: 50-20-135 (Lens Width, Bridge Width and Temple Length)
This measurement is always taken with a measurement system called "boxing" and it indicates the length of the frame that will hold the lens. This is a great factor to take into account depending on the distance of your eyes from the bridge of your nose.
The bridge refers to the part that connects both lenses and that sits on top of your nose.
The bridge width is a horizontal measurement that will give you important information about

the distance between both lenses. Ideally, the bridge should stay as close as possible to the
top of your nose.
The temple length refers to the measurement of the arm from the lens frame that reaches
back behind your ears.
How to choose the right bridge fit for your face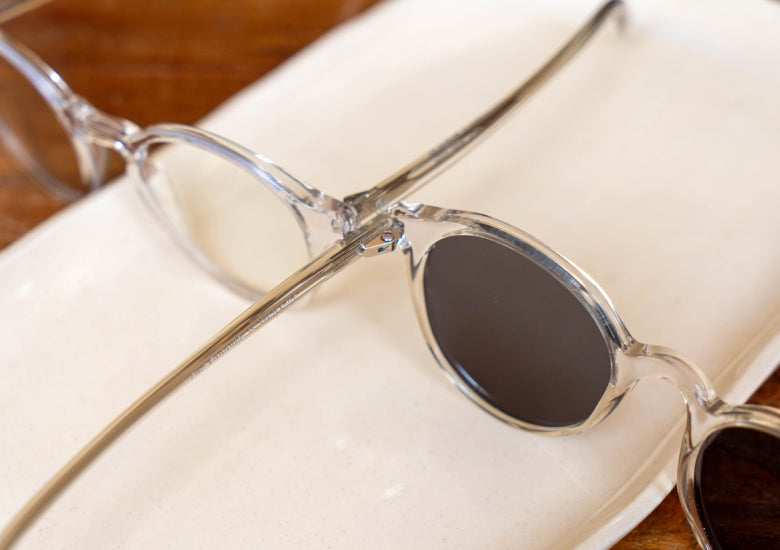 How to choose the right bridge fit for your face
The way the glasses fit on your nose is a very important factor when choosing the perfect frame size. Ideally, you should be able to bend over and move your head comfortably without your glasses moving.
There are two common nose bridges to take into account:
If your old glasses sat too high on your nose, that means the bridge was too small; in contrast, if your glasses were constantly sliding down your nose, it means the bridge was too wide.
Benefits of using Barner glasses

Look cool
wherever you go

Reduce
eye strain

Improve your
sleep

Improve
your wellbeing

Super
Comfortable

So light you won't realize
you are wearing them

Cool
packaging

Free
accessories
A great tip for choosing the perfect size

If you already have an old pair of favorite sunglasses, we recommend you check their size. Use these three measurements described above, and it'll give you the perfect reference to know the best size for your face!
We love the feeling when cool frames fit perfectly on our faces! That's why Barner blue light glasses have been carefully designed to be highly adaptable, lightweight and extremely comfortable. You'll forget you're even wearing them!
-
Our lightest frames have been made with an ultra-light material, TR-90, that weighs only 0.35 oz. (10gr.). If you want an ultra-light feeling, check out our Chroma collection !
-
Our Mazzu Collection is made of Acetate Mazzuchelli, a sturdier material that has a slightly heavier feeling.
Tip: If your face shape is quite small and your sunglasses tend to be too big, we recommend you choosing our Barner kid's size glasses. 
- Round face shape:  square and rectangular frames.
- Square face shape: round frames.
- Oblong face shape: rectangular or round bold frames.
- Oval face shape: any type of frame.
- Diamond face shape: Oval and round frames.
Check the lens width, the bridge width and the temple length to learn more about the size of the glasses. If you're not sure, compare it with the size of your sunglasses!
- For wider noses, the bridge should ideally measure between 20-21 mm.
- For narrower noses, look for bridges between 18-19 mm.
Three numbers will give you the information you need: lens width, bridge width, and temple length.
If the glasses don't perfectly fit your face and they sit too high upon your nose, it is a sign that you should look for a wider bridge.
When choosing the best frames for kids, there are three main factors to keep in mind: lightweight, flexibility and a comfortable texture.
-
Our Chroma collection is made from super light material, with flexible temples and it also has a rubberized texture, so the glasses adapt perfectly and securely to kids' noses and ears.
-
Barner blue light glasses are a great addition, giving us a little extra peace of mind, while encouraging the digital lives of our youngest family members with extra comfort and style!
-
Start improving your wellbeing now!